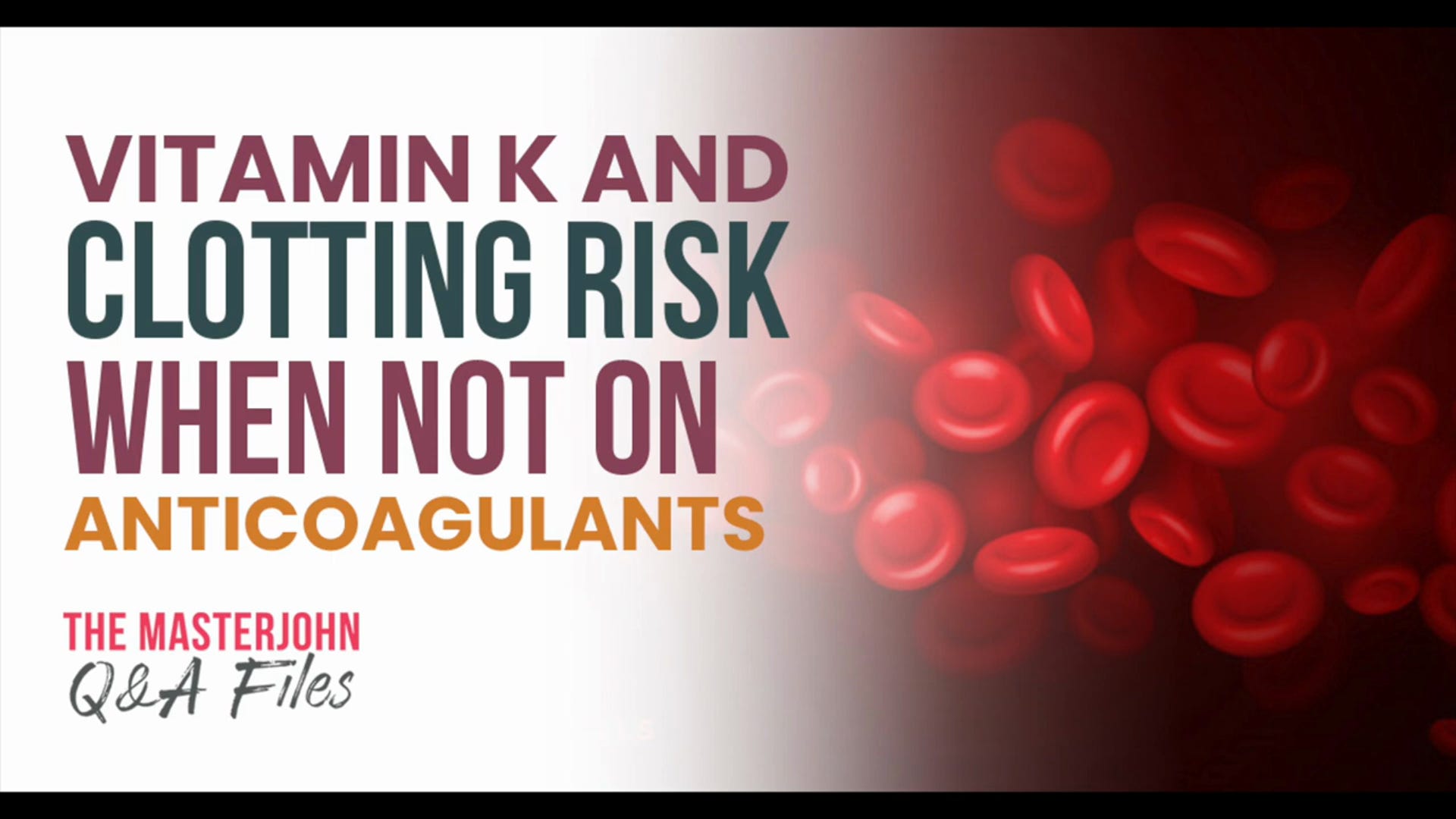 222: Vitamin K and Clotting Risk When Not on Anticoagulants
Masterjohn Q&A Files Episode 222
Introduction
Question: Vitamin K and Clotting Risk When Not on Anticoagulants
There's essentially not a trade-off because if you're not on vitamin K antagonist anticoagulants; in theory, there shouldn't be any effect of vitamin K supplements on clotting at all. The one caveat to that is that you might be relatively vitamin K deficient now and not realize it. So it is within possibility that you're not meeting your own personal vitamin K requirement to maximize clotting, but that's very, very unlikely because in population studies, almost no one falls into this category. But if that were true, then essentially, vitamin K supplementation would bring you up to a normal level of clotting, which may or may not affect the cardiologist's assessment of whether you should be on anticoagulants. 
This Q&A can also be found as part of a much longer episode, here:
083: Ask Me Anything About Nutrition, June 10, 2021
If you would like to be part of the next live Ask Me Anything About Nutrition, sign up for the CMJ Masterpass, which includes access to these live Zoom sessions, premium features on all my content, and hundreds of dollars of exclusive discounts. You can sign up with a 10% lifetime discount here: https://chrismasterjohnphd.com/q&a
DISCLAIMER: I have a PhD in Nutritional Sciences and my expertise is in performing and evaluating nutritional research. I am not a medical doctor and nothing herein is medical advice.
Listen to the Audio
I highly recommend watching the video above but you can also listen to the audio here:
Read the Transcript or Leave a Comment
Masterpass members have access to the transcript below.
Masterpass members can also read and leave comments below. Non-members can read and leave comments on the general podcast page.
Learn more about the Masterpass here.
This video is for paid subscribers